Around lunch time, a jury of three experienced professionals came around to to take time with each team to hear about their designs, production ideas, choice of fabric, texture and form.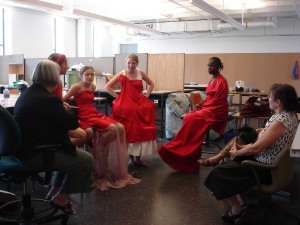 Later on, designers had to become mannequins: the red, green and blue team showed their gowns and garments on the Design Camp catwalk.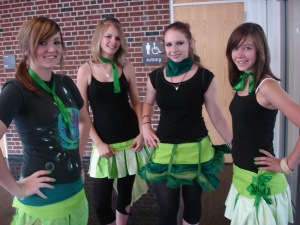 All 12 campers in the sporting group worked almost day and night to present 12 brand new designs. Helped by an energetic team of Student Assistants, they thought out and produced all of their wear themselves.
All teams proposed garments that at the one hand form a unity, while at the same time expressing the individual identity of the designer.
Each dress presented had hidden possibilities, and offered opportunities for transformation.
Blue
Fit for a classic Boarding school, the design of this uniform takes buttons to another level
Julia: A supple dress that adds a touch of elegance to the strict boarding school regime
Kara: Shows her personality through subtle changes
Claire: A kameleontic dress that comes with a surprising twist
Ellie: This classicly fit dress is engineered to reveal another side of Ellie.
Green
The green team has decided to take the pleaded skirt to new heights
Sasha: Smooth velvet with an edge
Patricia: A plea for peace adorned with bright green feathers
Ashley: Ashley contrasted a classic front with a playful backside
Sarannah: Frivolous gatherings of material decorated with hearts and stripes
Red
The red team proposes a set of long dresses that turns any day at the dancing school into a glamorous events
Nicole: A majestic A-line gown comes with a luscious satin cape
Valerie: Asymmetric lines and interesting combinations of fabric: Valerie is ready to rumba
Alexis: An 18th century silhouette inspired alexis to an extravagant layered gown
Mia: Emphasising vertical lines, Mia contrasts the gloss of silk with a dreamy cloud of tule.