About the Global Anxiety Monitor
The Global Anxiety Monitor has been disabled on 18/10/2011. More information here.
The Global Anxiety Monitor is an ongoing project which evolved out of De Geuzen's interest in mediatized images and the way their context and meaning fluctuate in the ecology of the world wide web.
A synchronized list of terms is fed into parallel html-frames, simultaneously juxtaposing live Google image searches in different languages. Querying anxiety buzzwords such as terrorism, conflict, financial crisis and climate change, each language delivers its own unique set of results. What is projected is a continuous pulse of visuals and metadata reflecting occasionally convergent and at times conflictual perspectives.
By continually performing timed searches, it becomes evident that query is driven by cultural biases and fed by local concerns. The Global Anxiety Monitor does not archive or document these processes, but it is rather a means of exposing the various Google worlds we may occupy at any given moment.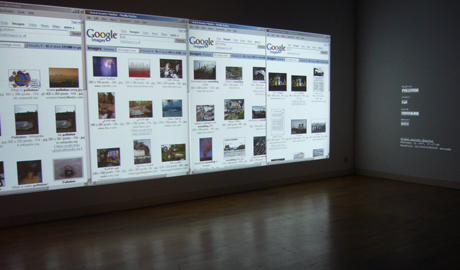 The project has been shown as a multi-screen installation in the following exhibitions:
Faith in Exposure Montevideo, Amsterdam NL (2007)
GogBot Festival Enschedé NL (2008)
Formatting Utopia, from Paul Otlet to the internet Mundaneum, Mons BE (2008)
Gaps and Silent documents Artefact Festival, Leuven BE (2010)
If you want additional languages monitored, please download and translate the list and e-mail it to info @ geuzen.org. We will integrate your list as soon as possible.
Thank you: Mel Chan, Pang Ching Ho, Tsila Hassine, Oliver Meskawi, Alexandre Prokoudine, Shy Shavit, Andraž Tori